Who We Are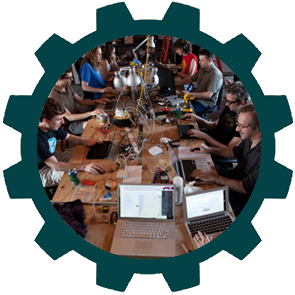 TechBridge Makerspace is a non-profit corporation with the purpose of providing a venue for innovation and growth in Southern Alberta. To do this we will provide space to work, tools to use, and education to enable you to design and create.
TechBridge will offer spaces for use on a membership basis. Just as gym members can use gym equipment and facilities as part of their membership, TechBridge members will be able to access spaces and tools. There will be shops for woodworking and metal working. Some of the featured equipment that will be available include 3D printers and a laser cutter. Other spaces will provide opportunities to do video and photography work, textiles and sewing, and robotics and electronics. Use of tools will require an initial training at minimal cost to make sure they are used appropriately and safely.
At TechBridge there will also be opportunities to take classes. There will be classes for children, youths and adults. Classes for school aged children will generally be offered as after school, weekend, or summer camp opportunities.
Additionally there will be spaces available to rent. These would include private storage space, private studios in which to work, and offices and co-working space for those wanting to take advantage of the collaborative environment.
We will also have a "store" where regularly supplies and materials can be purchased. Other maker related items and parts such as electronics components, projects kits, printing materials and hardware would also be available.
Why should you join
There are many reasons. Here some of the highlights.
Personal development and empowerment.
Build your self-confidence and lifelong abilities.
A community of like-minded and creative people.
Excellent learning opportunities.
Increase value to the modern workforce and job skills.
Improved kinesthetic abilities, and practical knowledge.
An environment of inspiration and motivation.
Take your idea from napkin to saleable product.